Loyalist supergrass wins court challenge to police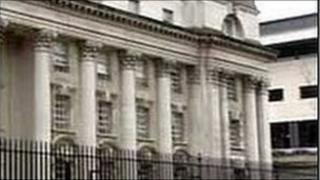 A former top loyalist turned supergrass has won High Court permission to challenge the police's refusal to provide him with his interview tapes.
Gary Haggarty was granted leave to seek a judicial review of the non-disclosure.
He is currently on remand charged with the murder of a taxi driver in Belfast 14 years ago.
His lawyers claim his trial and any proceedings at which he appears as a prosecution witness could be delayed.
They also rejected PSNI contentions that providing the tapes at this stage could impede an ongoing serious crime investigation.
Mr Haggarty, 39, from north Belast, is being held over the murder of William Harbinson in May 1997.
The 39-year-old victim was handcuffed and beaten to death in the Mount Vernon estate.
Charges were brought against him and another one-time senior loyalist following a new investigation by detectives from the Historical Enquiries Team.
But in January 2010, Haggarty signed an agreement to become an "assisting offender" under the terms of the Serious Organised Crime and Police Act (SOCPA).
As part of that pact he underwent a debriefing process which involved phases of two-week interviews at an unknown location in Britain.
'Knows everything'
Mr Haggarty brought judicial review proceedings to gain access to the tape recordings so that his solicitor can prepare the defence case and advise him.
He claims to be entitled to copies of the interviews as they were carried out in the spirit of the Police and Criminal Evidence (Northern Ireland) Order.
His barrister, Fiona Doherty, argued in court today that the failure to provide the material was irrational.
Dealing with police fears about potentially hindering a major investigation, she said: "What we are talking about here are the tapes of interviews at which this individual was present.
"He knows everything that was said at the interviews."
Mr Justice Treacy pointed out that the concern might be over others getting their hands on what Mr Haggarty has said.
But Ms Doherty insisted: "The request is to allow his solicitor to start work on his case - a case which will be very seriously delayed because of the delay in provision of these tapes."
Peter Coll, responding for the PSNI, said Mr Haggarty was in a different status from normal suspects due to his agreement to help the authorities.
"This is not the usual set of circumstances, this is somebody who has signed an agreement as an assisting offender," he said.
"There's never been circumstances in which the SOCPA interviews have been as of rote provided to an assisting offender."
Stressing that further developments may occur in the ongoing investigation, Mr Coll claimed the legal challenge was a form of satellite litigation.
However, Mr Justice Treacy granted leave to apply for a judicial review on the basis that an arguable case had been established on all grounds of challenge.
A full hearing of the case was listed for January.