Robert Black trial: Defendant had 'tape and rags'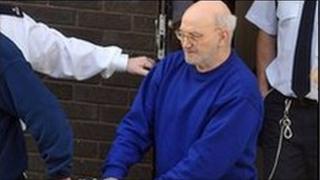 The Jennifer Cardy murder trial has heard that searches of Robert Black's van and home uncovered tape, rags and children's clothing.
Serial killer Black is accused of abducting and murdering the nine-year-old near her Ballinderry home in 1981.
The court has been hearing tapes of police interviews with him carried out in 1996 and 2005.
In one, he lost his composure as a female officer asks him about the items found and what they would be used for.
He told her that he would have worn the children's clothing, including a swimsuit for a girl aged eight to ten, for his own sexual gratification.
Asked about one of the other items, which also included child pornography and "objects of a sexual nature", he said he had "finished talking about that".
He added: "You obviously know what it's for. I've done this before and I'm not doing it again."
Stared at the floor
When a photograph of the object was shown to the court, Black, who normally looks straight ahead from the dock, dropped his head and stared at the floor.
Nine years after Jennifer's disappearance, Black was caught in the village of Stow in the Scottish borders with a six-year-old girl tied up in the back of his van.
This eventually led to him being convicted of three child murders, an abduction and an attempted abduction.
In a tape recording, Black had earlier told the detective that he would have lived in his van for days at a time while travelling across the UK as a delivery driver for a poster company.
It was his job that, the prosecution has alleged, brought him to Northern Ireland on the day Jennifer was abducted and killed.
When his van was searched in 1990, police also found a large piece of foam rubber, shaped into a makeshift mattress, while the girl Black had abducted was found in the bottom of a sleeping bag.
The case continues.