Liam Adams loses legal bid to appeal extradition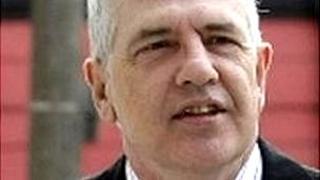 The brother of Sinn Fein president Gerry Adams has lost his bid to appeal against his extradition from the Republic of Ireland to answer charges of sexually abusing his daughter.
Liam Adams, 56, faces 18 charges of assault.
Earlier this month, the High Court in Dublin ordered that he should be transferred to NI to face the charges.
On Tuesday the court ruled that it would not allow him to appeal to the Supreme Court over the judgement.
He is to be sent to a prison in Dublin to await transfer some time in the next fortnight.
Mr Adams is accused of rape, indecent assault and gross indecency at various addresses in Belfast between March 1977 and March 1983, when his daughter was aged between four and 10.
He denies the charges.
The allegations were first reported when his daughter, Aine Tyrell, waived her right to anonymity to take part in a television documentary in 2009.
Mr Adams handed himself in to police in Dublin last year after a European Arrest Warrant was issued by the PSNI.