Donagh abuse brother Johnny McDermott gets fresh six month term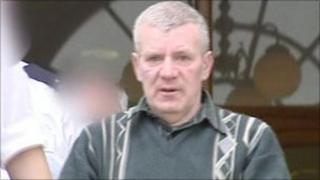 One of the brothers who sexually abused generations of young people in a County Fermanagh village, must serve an additional six months in prison for abusing a sixth victim.
Johnny McDermott, 61, from Moorlough Road, is already serving a nine-year term for 35 sexual offences.
On Tuesday, he was sentenced for indecently assaulting the younger brother of one of his victims.
A judge said his offending exemplified sustained abuse of children in Donagh.
Johnny McDermott had originally denied abusing the young boy, but changed his plea to guilty last month.
McDermott admitted three counts of indecent assault and one of attempted indecent assault on the boy in 1990 when his victim was 12.
On one occasion his victim was abused in his own bedroom.
He was abused again during a game of hide and seek and while on a hunting trip.
Judge David McFarland said: "As one person grew up and was old enough to avoid you or defend themselves, a younger person was identified and targeted."
"This offending was later than those dealt with last year and exemplifies your sustained abuse of children growing up in the village, moving on through each successive teenage generation."