Tesco given 'go-ahead' for new Carryduff store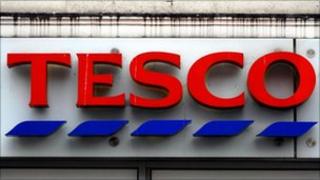 Planners have recommended that Tesco should be given the go-ahead to build a new supermarket in Carryduff, on the outskirts of south Belfast.
The 15,000 sq ft supermarket will be built on land at Edgar Avenue, just off the Saintfield Road.
The Northern Ireland Independent Retail Trade Association (NIIRTA), which represents small retailers, had raised concerns about the scheme.
Tesco is the largest supermarket group in Northern Ireland.
The planners' recommendation is due to be discussed by Castlereagh Borough Council next week, though the council has already said it is in in favour of the development.
Tesco has continued to expand existing stores and build new ones across Northern Ireland
Earlier this year, it was given the go-ahead to build a huge store at the Bridgewater Retail Park on the outskirts of Banbridge. That plan is subject to a legal challenge by NIIRTA.
The firm recently opened a new supermarket in Newtownards and is thought be considering plans for a development in Armagh.