Royal Victoria Hospital to review immunology cases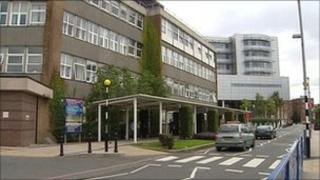 Fifty-nine patients with conditions affecting their immune systems have been offered review appointments at the Royal Victoria Hospital.
It follows a report commissioned by the Belfast Trust after concerns about the management of some patients.
Those affected are patients with chronic skin conditions, extreme allergies or joint problems.
The trust said it was "not in a position to say patients have received wrong drugs or wrong treatment".
It said its move was a precautionary measure to ensure they had received appropriate treatment.
Belfast Health and Social Care Trust medical director Dr Tony Stevens said: "Can I be very clear that we are talking about very complex conditions.
"We are not in a position to say anybody is on a wrong drug or has had wrong treatment," he said.
"This is about trying to make sure that patients have their treatment optimised.
"I wouldn't want the public or indeed individual patients to think at this time that we have definitively decided that anybody is on the wrong treatment."
Anyone who needs to be contacted should have received a telephone call or letter by 17:00 BST on Wednesday (19 October) offering an appointment over the next two to three weeks.
Susceptible to infection
BBC Northern Ireland health correspondent Marie-Louise Connolly said the alert was raised in August "after a significant difference in medical opinion emerged surrounding the treatment of a number of patients".
People who attend the immunology clinic at the Royal Victoria Hospital in Belfast have either a weakened or over-worked immune system.
This means that they are more susceptible to infection. In some cases their immune system doesn't exist.
Patients are normally given a course of steroids or strong medication to build up their anti-bodies which will protect them from disease and infection.
The BBC has been contacted by several patients who attend this clinic.
They have told the BBC that in the past number of months their courses of treatment, including medication, have been changed.
The vice-chairman of the health committee, Jim Wells, called the review a "very worrying incident".
"There must be swift action to reassure the public that the matter is being appropriately addressed," he added.
"It is vital that those who are affected by this recall receive notification as soon as possible. The trust must act to ensure that no further stress is added to this situation."
The trust has established an advice line on 028 90636330 for anyone who may feel concerned or anxious.
It will be open from 08:00 until 18:00 BST until Friday (21 October).