Northern Ireland faces more European farm subsidy fines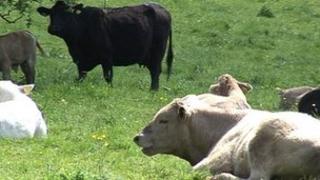 The Department of Agriculture has been told to pay back another £4m in European farm subsidies because of non-compliance with EU rules.
Northern Ireland has already incurred fines and disallowances of over £60m for incorrectly administering farming subsidies.
The fines had to be paid by tax-payers.
The recovery of the new money follows audits in 2006 and 2008 on the allocation of annual subsidy payments to farmers.
The European Commission has said member states are responsible for paying out and checking expenditure under the Common Agricultural Policy, and the commission is required to ensure that member states have made correct use of the funds.
Under this latest decision, funds will be recovered from Denmark, Germany, Greece, Spain, Italy, Cyprus, Malta, Netherlands, Austria, Poland, Portugal, Finland, Sweden and the United Kingdom.
Sweden faces the biggest disallowance of £66.6m while Italy is being asked to pay back £61.6m .
The Department of Agriculture has said it has challenged a number of the findings in the audits and is implementing a programme of EU audit compliance to reduce or eliminate disallowance in future.