250 search for missing Newry man Maurice Owens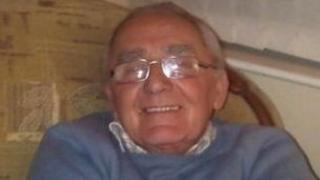 Up to 250 people are helping to search for a 73-year-old Newry man whose disappearance has been described as "completely out of character".
Maurice Owens has not been seen since leaving his Barcroft Park home to go to Mass at about 10:00 BST on Sunday.
His son Paul said his father was "well known throughout the town and the townland."
"We have to find this man. It's an absolute tragedy. I'd never think my father would go missing," he added.
Mr Owens is described as approximately 5ft 4in (1.62m) of slight build with grey hair.
He was last seen wearing navy trousers, a blue striped shirt and a navy pullover.
His normal route home from Drumalane Church would have taken him via Dublin Road, Chancellor's Road, Watson's Road and Doran's Hill.
'Set your clock by him'
His son described him as a creature of habit.
"You could set your clock by him. People are telling me that they see him every day. Rain, hail, sleet or snow, he will be out walking - he loved his walk," he added.
"For his age, he would be well fit for a good four or five mile walk. People are always saying that he is a very fit and fresh man for his age."
The search is being co-ordinated from a local community centre and Mr Owens said the response from local people had been "fantastic".
Volunteers have been knocking doors as well as searching ditches and fields.
"Any doors that were not answered last night, we have taken the numbers and we are going back to those doors tonight," Mr Owens added.