Cameron wants 'open minds' on Finucane case review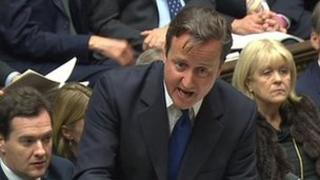 The prime minister has said that an "open-ended inquiry" is unnecessary in uncovering the circumstances of the murder of solicitor Pat Finucane.
Responding to a question from SDLP MP Mark Durkan, David Cameron said people should have an open mind about a review of the case by Sir Desmond DeSilva QC.
The Finucane family and the Irish government are opposed to the review and have demanded a public inquiry.
The government has already acknowledged there was collusion in the killing.
Mr Finucane was murdered at his north Belfast home in 1989.
He was eating dinner with his family when Ulster Defence Association gunmen burst in and shot him repeatedly.
His family have long campaigned for an independent public inquiry into the murder.
A previous investigation by former Metropolitan Police commissioner Sir John Stephens found there was collusion in the murder, a finding accepted by the government.
Mr Durkan told Prime Minister's Quesions in the Commons that the prime minister should now go further and order an inquiry.
Mr Cameron replied that he understood Mr Durkan's doubts but said that there had also been great scepticism about whether the Saville Tribunal into Bloody Sunday would get to the truth.
"I think that what matters most of all is the intent of the British government in uncovering what happened - being frank about it, acknowledging it and apologising for it," the prime minister said.
"That is what we are going to do. You don't need an open-ended inquiry to achieve that.
"So, to those who are sceptical - I know that they will go on being sceptical. I would just ask them to have an open mind and I believe we can deal with this issue properly."