Derry GP Dr Lee Casey wins appeal over 'sexual examination'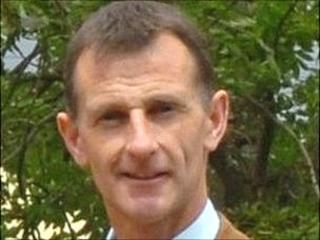 A Londonderry GP has won his appeal against being found to have carried out a sexually motivated examination on a female patient.
Earlier this year, a General Medical Council panel imposed a nine-month suspension on Dr Lee Casey over alleged improper conduct six years ago.
However, its determination was completely quashed by a judge at the High Court in Belfast.
He identified serious inconsistencies in accounts given by the patient.
The GMC had found that Dr Casey took advantage of the "vulnerable" female patient when carrying out a chest investigation in June 2005.
It found that two allegations made by the patient were found to be proven, while two were not.
However, on Wednesday Lord Justice Girvan said the woman had completely abandoned an earlier version where she made claims about a highly sexualised encounter involving improper handling of her breasts.
He said: "The case made out by the GMC before the panel in the first instance is a case which now lies in tatters.
"The witness, Patient A, having made a number of serious allegations of sexual impropriety withdrew nearly all of them, leaving one allegation relating to the examination of her chest."
Dr Casey's lawyers challenged the GMC determination on the basis that it was wrong to find Patient A to be a consistent, reliable and credible witness.
Ruling on the appeal, Lord Justice Girvan added: "The internal inconsistencies in her previous version of events and the complete and unexplained abandonment of serious allegations of sexualised misconduct, should have raised serious concerns which should have been addressed by the panel in its analysis.
"The finding by the panel that the patient presented as a consistent, reliable and credible witness is one that no tribunal properly directing itself on the evidence could have made in the circumstances."
After setting aside its decision he resisted submissions by counsel for the GMC that the case should be remitted back for another hearing.
He said the determination should instead by fully quashed.
"There is a real risk that because there has been a hearing already this witness would be rehearsed to the point of causing a problem in relation to the interests of justice," he added.
Dr Casey was hugged and embraced by relatives and supporters in the public gallery as the verdict was confirmed.
Outside the court he said: "I am pleased that Lord Justice Girvan has quashed the decision of the GMC's fitness to practice panel of July 2011.
"I would like to thank friends and family, patients, professional colleagues and my legal team for their support during this difficult time for all involved."