Minister announces £3.25m help for first time buyers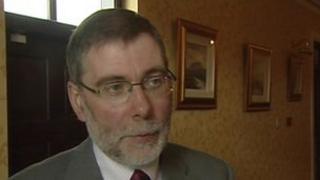 The social development minister has announced a £3.25m scheme to help first time buyers get on the property ladder.
Nelson McCausland revealed that the FirstBuyNI pilot scheme is aimed at helping new and return home buyers purchase newly built homes.
If the prospective home buyers have a 5% deposit and can secure a 75% mortgage, Co-Ownership Housing will finance the 20% shortfall.
The scheme hopes to help around 100 families purchase a home.
Properties up to a maximum of £175,000 will be available for purchase through FirstBuyNI and as the buyers' earnings increase they can move to full ownership by increasing their equity stake.
The Co-Ownership Scheme has been running since 1978 and has helped more than 21,000 people purchase their home.
Mr McCausland wants the scheme to help with the difficult first rung on the property ladder.
"New build properties often require around 20% deposit. This scheme will help people who would find it difficult to afford buying a new-build house outright, to take their first steps towards home ownership," he said.
"It is also welcome news for the construction industry in Northern Ireland. It is my hope that this scheme will stimulate the sale of new-build homes and have a knock-on effect of creating more jobs in a sector which has been badly affected by the slow-down in the housing market."
To find out more about the scheme go to www.nidirect.gov.uk/firstbuyni