Man viewed 395 abuse images in Belfast Central Library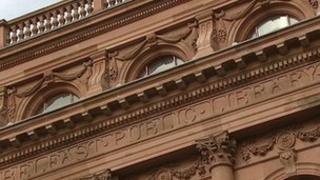 A man who looked at almost 400 images of child abuse on a computer in Belfast Central Library has been jailed for a year.
John George Kennedy Reid, 40, must also sign the police sex offenders' register for the next 10 years.
Reid, of no fixed address, was extradited from Gibralter last June.
It was the second time he had used a public computer to look at images of child abuse - he did so on a Queen's University library computer in 2006.
The most recent offences occurred while Reid, who is originally from south Belfast, was on bail for similar charges.
The court heard that on two consecutive days in February 2008, staff at Central Library spotted Reid looking at websites containing images of children being abused, with one member of staff isolating the web address so that police could investigate.
Prosecuting lawyer Kate McKay told the court that police were able to identify that Reid had looked at a total of 395 photographs and three films over the course of the two days.
Arrested and interviewed, Reid denied doing anything wrong, but later pleaded guilty to a total of 33 charges of possessing indecent images of children.
As well as the jail term, Judge Tom Burgess imposed a 10-year Sexual Offences Prevention Order, barring him from unsupervised contact with children, visiting child-centred facilities, working with children or from using a computer which does not have monitoring software installed.