Belfast's El Divino nightclub extension bid put on hold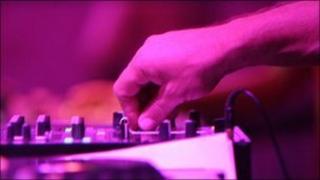 A Belfast nightclub's bid for extended opening hours and increased capacity has been deferred by the city council.
The owners of the new El Divino Club, beside riverside apartments on the Laganbank Road, wanted to stay open until 03:00 BST four nights per week.
However, objections have been lodged by residents and police have expressed concern about the club's proximity to the Lower Newtownards Road interface.
It will now operate on a similar basis to the Edge bar which it replaces.
A Belfast City Council spokesman said: "At its meeting last night, the council's licensing committee agreed to the transfer of the existing entertainments licence for the premises formerly known as the Edge to Mr Mark Beirne of El Divino Ltd.
"The committee deferred consideration of the applications for two variations in the terms of the existing licence - for an extension of the premises' opening hours and an increase in its capacity - to allow council officials to facilitate further discussions between the club's proprietors and local residents who objected to the applications."
Owners of the riverside club said they have spent £1m on refurbishing the bar and created 60 new jobs.
They said they were liaising with residents to allay their concerns.