Ombudsman criticism 'hearsay' says Peter Robinson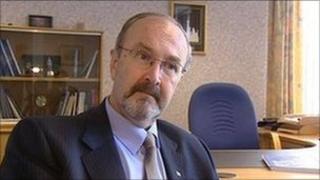 First Minister Peter Robinson has described the BBC's Spotlight programme which criticised the Police Ombudsman as "superficial".
Spotlight looked at the circumstances leading up to the decision by Sam Pollock, the former chief executive of the ombudsman's office, to step down.
It also uncovered evidence of failings in several historical investigations.
However, Mr Robinson said he was not convinced by "hearsay" and claims by someone "who has an axe to grind".
He said he had to rely on facts where Ombudsman Al Hutchinson was concerned not "trial by media."
In a statement, the BBC said it stood by its journalism and described the Spotlight programme as "responsible, rigorously researched and in the public interest".
Mr Hutchinson has already said that he will leave his role next June.
Mr Robinson said he had spoken to Acting Deputy First Minister John O'Dowd about finding a replacement for the ombudsman as he has been advised it will take nine months to to do so, and that is why they had to discuss his future.
He said there was vetting to be done and if the process of replacing the ombudsman did not begin there was a chance he would have to stay on.
The Office of the First and Deputy First Minister has the power to dismiss Mr Hutchinson, but on Wednesday Mr O'Dowd said he should pre-empt such a move by going at once.
"Al Hutchinson no longer has any positive role to play in reshaping policing in this society," he said.
"Every day he remains in office he is damaging the credibility of a very important part to the new beginning to policing in this society."
Meanwhile, the BBC understands the Police Ombudsman's office has withdrawn part of a statement it gave following a BBC Spotlight documentary.
It said the Criminal Justice Inspectorate (CJI) acknowledged its review on Troubles-related investigations, when implemented, would provide a robust model for dealing with the past.
The BBC understands the CJI maintains it made no such acknowledgement.
It has been retracted by the ombudsman.
In September, a report by the CJI said the office's operational independence had been lowered, and that Mr Hutchinson had lost the trust of senior colleagues.
It was the third highly critical report to be published into the work of the organisation.