UVF case: Robert Stewart prescribed anti-psychotic drug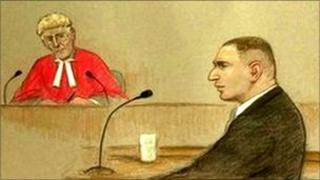 UVF "supergrass" Robert Stewart has revealed that he has been prescribed anti-psychotic drugs during the course of the trial so far.
Stewart is giving evidence against 14 men, nine of whom are accused of the murder of Tommy English 11 years ago.
The senior UDA member was shot dead in front of his family in October 2000.
Stewart, who has faced weeks of cross-examination from defence lawyers, said the prescription drugs helped to keep him calm.
Barrister Philip Magee told him he accepts he is doing his best to tell the truth.
However, he put it to Stewart that such is his state of mind, he no longer knows whether he is telling the truth or not.
Stewart rejected this.
The witness' brother, David Ian Stewart, is expected to give evidence in a week or two.
The 14 defendants - who include alleged former north Belfast UVF commander Mark Haddock - are being represented by 24 barristers and eight firms of solicitors and the trial is expected to last for 11 weeks.
The murder of Tommy English took place during a feud between the UDA and the UVF.
Both the UVF (Ulster Volunteer Force) and UDA (Ulster Defence Association) are loyalist paramilitary groups responsible for the murder of hundreds of people during the Troubles.
The term supergrass was first used in Northern Ireland in the 1980s when a number of terrorist suspects were convicted on the evidence of fellow paramilitaries.