Jennifer Cardy trial: Robert Black not to take stand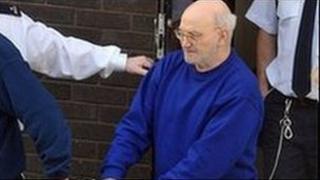 Serial killer Robert Black will not take the stand himself in his trial for the murder of Jennifer Cardy.
His defence opened with evidence from Dr Christopher McIlroy, a leading forensic pathologist.
Dr McIlroy told the court that he felt it was not possible to say for sure if Jennifer had been sexually assaulted or whether she had been strangled or drowned.
Black denies abducting and murdering nine-year-old Jennifer in August 1981.
Dr McIlroy gave his evidence via video link from Malaysia where he is on a lecture tour.
He told the jury that the lack of injury on Jennifer's body was significant when trying to establish if she had been sexually assaulted or not.
He also said it was not possible to say for sure that staining on her clothing was blood when there was no obvious injury as a source.
He accepted, however, that he could not rule out an injury having been missed at the original post-mortem examination and said the techniques used in that examination were significantly different from those used today.
Ligature
Asked about the cause of death, he said it was not possible to say for sure if Jennifer had been strangled or if she had been put into the water at McKee's Dam alive and then drowned.
He did agree, though, that "in all likelihood" a ligature had been tied around her throat. The prosecution believe this may have been her own cardigan.
Cross-examined by the prosecution, he agreed that among clinicians today there is a much greater awareness of the possibility of sexual assault on children than there was in 1981.
Dr McIlroy has carried out many high-profile autopsies, including that on the man found dead in TV star Michael Barrymore's swimming pool.