Garda McCabe's family angry at McGuinness candidacy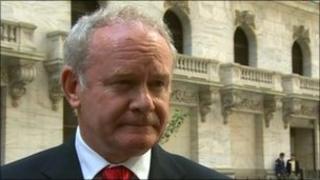 The family of an Irish police officer shot dead by the IRA has said Martin McGuinness is not a suitable candidate to be the country's president.
Detective Jerry McCabe was killed during an armed raid on a post office van in Adare, County Limerick, in 1996.
In a statement, his family said Mr McGuinness should reveal what he knows about the killing and those of other Irish security force members.
In response, Mr McGuinness said the McCabe killing was "unjustifiable".
"A great wrong was done to the McCabe family and the IRA has acknowledged and apologised for it," he said.
"I have never and would never stand over attacks on members of the defence forces and the gardai."
He also rejected specific allegations from the family that he met with one of Garda McCabe's killers after the attack.
Four IRA men were convicted of manslaughter over the killing. The gunmen fired 14 shots at Garda McCabe and a colleague who was seriously injured.
In a statement to the Limerick Leader, the McCabe family said: "Since that morning, when the last of the murderers was freed into the waiting arms of Sinn Fein TD Martin Ferris, we have refrained from any public comment concerning the political affairs of the state my husband died defending from the terror gangs of the Provisional IRA.
"Now we feel we must break that silence to raise our concerns about the course of the current presidential election campaign."
They added: "This election is as much about the moral duties of those who seek high office as it is about their vision for the presidency and Ireland's future.
"We want to move on and resume what passes for a normal life without a father and husband and brother.
"We can't move on if Mr McGuinness assumes he can aspire to the symbolic status of first citizen without first discharging the most basic responsibility of any citizen.
"If Martin McGuinness cannot or will not assist the authorities with its investigations into the murders of police officers, soldiers and prison officer how can we expect the rule of law to prevail under his presidency?"
Mr McGuinness is one of seven candidates standing in the election.
The others are Fine Gael's Gay Mitchell, Labour's Michael D Higgins and independents Mary Davis, Sean Gallagher, David Norris and Dana Rosemary Scallon.