More Lawson cypress trees found with killer disease P. lateralis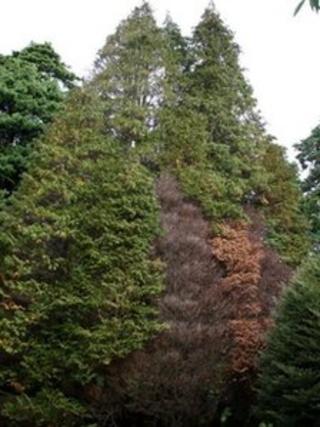 Trees dying from a killer disease have been discovered in more parts of Northern Ireland.
More than half a dozen locations have now been identified where Lawson cypress trees have been found to have the deadly infection P. lateralis.
The sites include Mourne Forest near Kilkeel, Somerset Forest near Coleraine and Tollymore Forest Park at Newcastle.
Other outbreaks are restricted to just one or two trees in a number of private woodlands.
Some of the outbreaks were discovered after suspicions were raised following an aerial survey.
Checks on the ground confirmed the disease was present.
It is thought the infection, which attacks tree roots, is spread through infected soil being moved by people's feet, according to a spokesperson for the Department of Agriculture and Rural Affairs.
"Appropriate bio-security measures are being put in place to prevent further spread of the disease both within and from the sites," the spokesperson added.
"These include requirements to prevent the movement of infected soil and plant material from the sites. At the public forests, signage will be put in place to advise the public of the actions they can take to prevent further spread of the disease."
The disease was first spotted during the summer amongst a number of mature trees in Tollymore, one of Northern Ireland's top recreational forests.
The infection is now widespread across Northern Ireland unlike the rest of the UK.
Four sites have been reported in Scotland and just one in the south-west of England.
Lawson cypress are not significant in timber production, but are popular ornamental trees.
The Department of Agriculture said it has already stepped up its inspections of trees and plants at production nurseries and retailers following the discovery of more infected Lawson cypress.