Teenager banned from St Mary's College grounds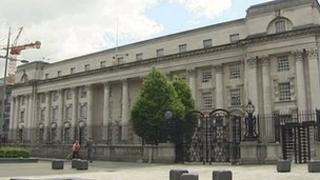 A youth has been banned from a college where he is accused of trying to steal a student teacher's phone and breaking a member of staff's finger.
The 16-year-old was excluded from the grounds of St Mary's teacher training facilities in west Belfast as part of strict High Court bail conditions.
The teenager faces charges of attempted robbery, obstructing police and assault occasioning actual bodily harm.
He also had a night-time curfew imposed and is to be electronically tagged.
The alleged offences relate to an attempt to snatch a female student's phone as she stood outside St Mary's on the Falls Road on 10 October.
A prosecution lawyer said one hooded youth tried to steal it while another attempted to grab her bag.
Staff from the college were said to have pursued them into the nearby Royal Victoria Hospital.
One suspect escaped while the other was detained. During the struggle one of the college staff sustained a broken finger, the court heard.
The 16-year-old accused refused to name his friend who, he claimed, was responsible for the attempted theft while he stood and watched.
Michael Boyd, defending, acknowledged there was a strong prima facie case against his client.
But he said the accused claimed it was his friend who instigated the incident.
Granting bail, Mr Justice Treacy agreed to a prosecution request for the teenager to be excluded from an area mapped out around St Mary's.
A further condition was imposed that the accused must attend his electronic engineering studies.
The judge told him: "If you unreasonably absent yourself from any part of that course that will be a breach of your bail and you will go back into custody."