McDermott brothers' victim waives right to anonymity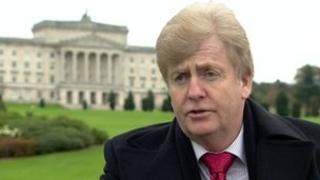 A man from County Fermanagh who was sexually abused by four brothers has spoken publicly for the first time.
Michael Connolly grew up in the village of Donagh and was targeted and abused by the McDermott brothers.
He has waived his right to anonymity to help other victims and to demand a change in the law.
Earlier this week, one of the McDermott brothers had his prison term extended by six months for abusing another schoolboy.
Six survivors who went to court last year have been presented with a community award by Stormont for helping to bring the brothers to justice - ending generations of abuse.
Johnny McDermott was jailed for nine years after admitting 35 counts of sexually abusing young boys and girls. His sentence was extended by six months earlier this week.
Peter Paul McDermott hanged himself the day after his trial started last year.
The case made headlines when two other brothers, Jimmy and Owen Roe, were found mentally unfit to stand trial.
The judge placed them on a two-year supervision and treatment order and allowed them to return to their home near a playground and a school.
Following a public outcry the two brothers admitted themselves voluntarily to hospital where they remain.
Since the case, the maximum length of a supervision and treatment order has been extended from two to three years.
Institutional abuse
A report for the Department of Justice recommended that community impact assessments should be carried out before sex offenders are released back into the community.
Michael Connolly said: "That is something that is very important for a small community like Donagh so I would like the Government to move along with this - lets get it done."
"We were promised a review of the Mental Health Act. I have lost sight of that, there is no sign of exactly what is going on. They are not communicating with us on that part."
He is also concerned that the recently announced inquiry into institutional abuse in Northern Ireland will not go far enough.
"I think the government needs to go back and have a look at what they're doing - a time limit of two and a half years is not adequate to carry out this type of inquiry and that's quite obvious from the other inquiries that have taken place throughout the island of Ireland."
The McDermott brothers had a huge impact on Michael's life but he says he has now moved on and is studying for a law degree.
He hopes that by speaking publicly he will help other victims of abuse to break the silence and seek help.
"I have taken my life back. I have taken control of my own life.
"I have a lovely family at home, I'm now halfway through doing a law degree which I'm thoroughly enjoying and I hope when I get to the end of that if I can put it to good use for others and play my role as a survivor."