Orangemen cleared by Order for attending Ronan Kerr funeral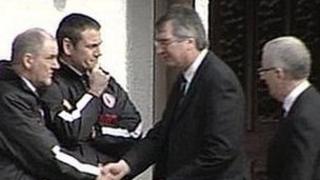 An Orange Lodge's attempt to discipline two senior Ulster Unionists who attended the funeral mass for murdered police officer Ronan Kerr has failed.
Disciplinary committees found the cases against party leader Tom Elliott and Regional Development Minister Danny Kennedy "not proven".
Orange Order members are forbidden from taking part in Catholic Mass.
A Sandy Row lodge made a formal complaint over the men attending the funeral.
At the time of the funeral, the Orange Order leadership indicated they understood the two members' decision to go to the Mass.
But the complaint claimed the senior Ulster Unionists had "sold their principles for political expediency".
The politicians appeared before separate disciplinary panels in Lurgan last week. Both have now been informed there will be no further disciplinary procedures.
Mr Elliott said he hopes the issue is now over.
"The Orange Order have internal processes and procedures to go through and they have gone through those and, quite clearly, what I am hoping is that we can move on," he said.
"That we can move on in a sense that what we did was right."
It is not clear if the lodge which made the complaint will appeal the decision.
A spokesman for the Grand Orange Lodge of Ireland said it was an internal matter.