Father hopeful of IRA settlement after Gaddafi's death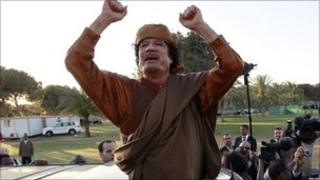 The father of a child killed by the Warrington bomb has said he hopes Col Muammar Gaddafi's death will lead to a "speedy settlement" of legal claims by IRA victims.
Colin Parry's 13-year-old son Tim died in the 1993 attack. Semtex provided by Col Gaddafi's regime was used to make the IRA bomb.
Mr Parry is involved in a class action against the Libyan authorities.
He said Col Gaddafi's death does not absolve Libya of responsibility.
"I hope we are closer to a conclusion. It has been a long campaign," he added.
"The temporary government has been helped considerably by the British and the French in overcoming Col Gaddafi's regime. And in a sense the new the emerging nation of Libya owes a debt to this country.
"So I would hope that factor, allied to the natural justice of our claim, would lead to a speedy settlement."
'Done deal'
DUP MP Jeffrey Donaldson said that he believed compensation for the 150 victims' families involved in the legal action could be fixed within months.
He added that "significant progress" had been made at a Foreign Office meeting this week.
On Thursday fighters loyal to Libya's National Transitional Council said they found the country's former dictator hiding in a hole in his hometown of Sirte.
They shot him when he tried to escape.
Mr Parry said he blamed the IRA "entirely" for his son's death. He died alongside three-year-old Jonathan Ball in the explosion in Warrington town centre.
However, Mr Parry added that Col Gaddafi had contributed to the IRA's "effectiveness" and said that without his help the group would not have been able to claim as many lives.
"I personally wished he had been apprehend and put on trial. That would have been a better outcome.
"But the fact is he is dead. That's a done deal."