Police find cannabis factory in Lisburn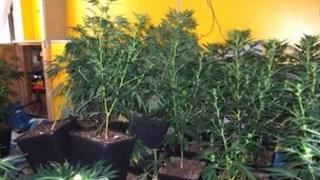 A cannabis factory has been uncovered by police in Lisburn, County Antrim.
The building on Antrim Street is believed to contain plants with a value of about £170,000.
The discovery, at commercial premises, was made by a member of the public who reported it to police on Friday morning at 10:40 BST
Police said the premises contained heat lamps, fans and other items for cannabis cultivation.
Lisburn police area commander Darrin Jones said: "A local man had noticed a number of heat lamps and plants at a property in Antrim Street and thought it looked suspicious.
"He decided to bring his concerns to police. Local officers responded to his information within minutes and were able to gain entry to the building.
"Once inside they confirmed the presence of a large cannabis factory."