Pipe bomb was 'attempt to kill' retired PSNI officer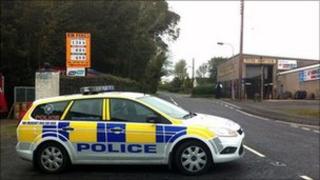 A pipe bomb left outside a house in Lawrencetown, County Down, was an "attempt to kill" a retired police officer, the PSNI has said.
The bomb was found in the Banbridge Road area of the village at about noon on Thursday.
Chief Superintendent Alasdair Robinson said it was an "abhorrent attack on a lady who has spent a large part of her life serving her community".
It is understood she left the PSNI recently.
"We are extremely fortunate that this device was located and made safe before someone was injured or killed," Mr Robinson added.
"The people behind this have shown a complete disregard for the entire community in Lawrencetown.
"Had this device exploded any one unfortunate enough to be passing by could have been seriously injured or killed."
Army bomb disposal experts examined the device on Thursday and carried out a controlled explosion. The device was found to be a viable pipe bomb.
A number of residents were moved from their homes during the operation.
Ulster Unionist MLA Jo-Anne Dobson praised the PSNI for its "swift action."
"Those who chose to leave this device clearly have little care for those who could have been killed as a result," she added.
"It will have been frightening for residents and serves absolutely no purpose but to disrupt."
Police want anyone who saw any vehicles which appeared to be out of place or anyone acting suspiciously in the area over the last couple of days to contact them on 0845 600 8000