Trust says 700 prisoners addicted to drugs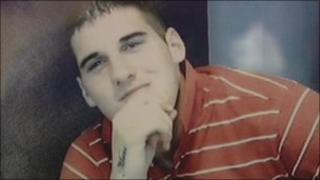 More than 700 prisoners in Northern Ireland are addicted to drugs, according to the director of health care for inmates.
Desmond Bannon of the South Eastern Trust warned that prisons cannot cope with demand.
More than 5,000 prisoners use health services every year.
Mr Bannon said 1,000 had personality disorders. He also estimated around 160 inmates will have tried to take their own lives by the end of the year.
He warned that the drugs prisoners were being prescribed were for their sedative and tranquilising effects and not for physical ailments.
Lyn Edwards' son Aaron Hogg took his own life while on remand at Maghaberry Prison in May.
She said she believed the 21-year-old, who had a personality disorder, was let down by the system.
"He was very impulsive and didn't really relate to anyone he didn't know. I think he felt very isolated and alone in prison," she added.
"He was very withdrawn and I could see him going slowly downhill.
"He was on strong psychosis medication. He was on temazepam, but I think they were stopped and I know he had bother sleeping.
"I don't think he was ever seen by a psychiatrist."
Vulnerable
Ms Edwards said Aaron should have been moved to a hospital or special facility were his medication could have been monitored.
"They definitely failed my son and I'm sure they are failing other people," she added.
Anne-Marie McClure works with Opportunity Youth, a group which helps inmates suffering from addiction.
She said 90% of the people who used the service were on prescribed medication, and that more resources were required to meet the needs of "this highly vulnerable group".
"Many of them are on the drugs before they come to prison," Ms McClure added.
"On committal we see almost every prisoner coming in and we highlight to them the consequences of drug use within prison.
"We highlight issues around tolerance, the risk of using drugs in prison and of course the risk of using drugs on release."