Jennifer Cardy trial: Robert Black 'knows murder guilt'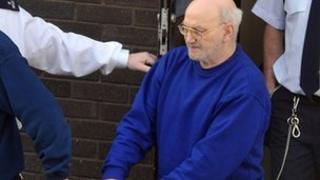 Robert Black did not take the witness stand in his trial for the murder of Jennifer Cardy because he knew he was guilty, the court has heard.
A prosecution lawyer told the jury there could be "no doubt" that Black abducted and killed Jennifer.
"He took her away and did what he liked to do to little girls before discarding her - by now, to him, useless - body in the water," he said.
Black denies abducting Jennifer, abusing her and dumping her body.
The nine-year-old was killed in August 1981 on her way to a friend's house. Her body was discovered at McKee's Dam near Hillsborough, County Down.
'Deliberate choice'
In his closing speech, Toby Hedworth QC told the jury: "This man, who has been here in the centre of this courtroom for the duration of this trial, has quite deliberately chosen not to walk the eight short paces to the witness box, take the oath, look you in the eye and answer these charges.
"We have questions for Robert Black; questions that, because he is guilty, he knows he cannot answer."
Highlighting similarities between Jennifer's murder and the three killings for which Robert Black has already been convicted, Mr Hedworth reminded the jury that Jennifer's killing was the only one of its type in Northern Ireland in 40 years.
He said: "In Northern Ireland, Jennifer Cardy stands alone. She is unique. No-one here does that sort of thing."
Turning to indicate Black, he said: "But this man does. And this man was here on that day. That Robert Black was the abductor and murderer of Jennifer Cardy, you can and should have no doubt."
At one point, while Mr Hedworth was recapping Black's history of abusing young girls, dating back to when he was a teenager, a juror became visibly upset. In tears, she asked for a break and the court rose for a few minutes.
Black showed no response and, sat motionless throughout the closing speech, staring intently at the prosecuting lawyer.
When proceedings resumed, Mr Hedworth talked about the fantasy which Black revealed during police interviews.
The prosecuting barrister told the jury there was a "strange paradox" in Robert Black.
"He doesn't want to face the truth, but, equally, he likes to talk, almost in a sense of boasting," he said.
Mr Hedworth described Black as arrogant, saying: "He enjoys control, and talking about what he does, as long as it doesn't lead to consequences."
'Strange and deviant'
He recalled a moment during Black's police interviews when he had told a female detective, who was dealing with the details of his "strange and deviant" sexual urges: "I'm enjoying watching you struggle."
Mr Hedworth said: "When he can wriggle, he will. But ultimately he has to play almost a game of cat-and-mouse with the officers, and he talks in more and more detail of the so-called fantasy.
"We say this was no fantasy - this was a retelling of what he had done."
The lawyer said Jennifer's abduction and murder was part of a "deviant and gross" pattern of violent sexually-motivated crimes carried out by Black, and that he would have simply carried on killing little girls had he not been caught by chance in 1990.
He said the prosecution had shown that it was "absolutely certain" that Black had been in Northern Ireland on 12 August 1981, and that he would have driven past McKee's Dam.
He said it was clear that passing quiet familiar spots like that would ignite in Black fantasies that he was unable to control and send him off in search of a victim.
"The picture that results is one that Robert Black simply cannot or will not face and will continue to lie about, even when the contrary has been proved," he said.