Tom McFeely gives statement of means to Priory Hall court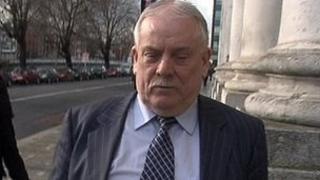 A developer and former hunger striker whose company built a Dublin apartment block deemed a fire hazard, has given a statement of means to a court.
More than 240 residents of the Priory Hall apartments in Dublin have now been moved.
Last week, Dublin High Court heard safety regulation breaches were so serious, a fire could spread through the whole building in minutes.
Work is now taking place to repair the serious defects of the building.
The residents are staying in hotel rooms.
A statement of means clarifies a person's income and outgoings.
On Friday, High Court President Mr Justice Nicholas Kearns was told that the fire service no longer have a presence at Priory Hall because everyone has now been evacuated.
However, on being told that it would take 10 minutes for firefighters to get to the complex if a fire broke out, Mr Justice Kearns ordered them to return and remain there while works are ongoing.
He said it would be the ultimate disaster if having gone through all this, the development then burned to the ground.
The case has been adjourned until next Friday, when Mr Justice Kearns will review the progress of the works to repair the serious defects of the building.
Earlier, lawyers for two groups of residents told the court they had no faith in the company who built the development, Coalport Building Company Limited, carrying out the remedial works.
They also told the court residents were worried about their mortgages and banks and lending institutions had said they did not have enough information to make decisions about what should happen to the mortgages of those in Priory Hall.
Mr Justice Kearns said he could not make any orders relating to the lenders but he requested them to take due account of the unprecedented difficulties faced by the mortgage holders and those who have loans and other outgoings.
The judge said he was making it clear that Dublin City Council had to pay the storage costs of residents who have had to move out of their homes as well as the cost of alternative accommodation.
He said he had considered ordering the city council to pay the costs of travel expenses and subsistence but he did not think it would be practical to make such an order.
Tom McFeely was in the Provisional IRA and spent 53 days on hunger strike in the Maze prison in 1980.
He went on to become a multi-millionaire property developer and is director of Coalport Developments.