Niamh Perry: I'd Do Anything for Bangor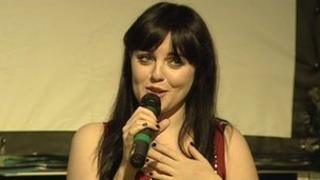 She didn't quite nail the role of Nancy but Bangor's Niamh Perry has been a West End success ever since.
On Friday, she made a rare appearance back in her hometown as over 200 school children got an exclusive glimpse of her next big project.
The I'd Do Anything finalist was appearing at St Columbanus' College in Ballyholme.
She performed songs from The Little Prince and took part in a Q&A session with the pupils.
Niamh's father, Liam, is principal at the school and students from other schools in the area were also invited to the event.
Since narrowly missing out on the role of Nancy, Niamh has rarely been out of work in the theatre. She recently appeared as Fleck in Love Never Dies and Sophie in Mamma Mia!, as well as working on her own album.
The Little Prince is her next project and will be running at the Lyric Theatre in Belfast over Christmas.
The production is Nicholas Lloyd Webber and James D Reid's first full scale musical collaboration and Niamh takes the title role.
It's a new version of Saint-Exupéry's classic and Niamh was delighted to bring some of the songs to Bangor,
"Performing to so many children in my dad's school is just a wonderful experience," she said.
"I have many happy memories of growing up in Bangor and I'm thrilled that myself, Nick and Jamie were able to perform songs from The Little Prince and talk to the children about the production.
"It's been very useful for us to see their reaction before we go into four weeks of rehearsals at the Lyric."