EU referendum proves battleground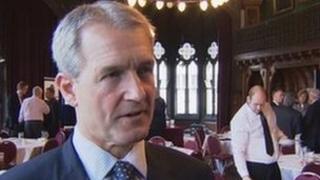 On Monday, MPs will consider whether there should be a referendum on UK membership of the European Union.
This referendum vote and a potential rebellion by Tory MPs is the talk of the tea rooms at Westminster.
It has divided opinion and has already prompted one MP to talk of resignation.
Stewart Jackson, who is parliamentary private secretary to Northern Ireland Secretary Owen Paterson, has said he will vote for a referendum and quit his junior position in government.
He knows the consequences of his actions. People who are parliamentary private secretaries are considered to be part of the government's 'payroll vote' and are expected to resign if they rebel in Commons votes.
Stewart Jackson told the BBC: "This is a question of putting, I believe, country and constituency first and party second because in the end it's a question about whether we trust the European elite that has led us into the calamity of European governance."
He is not the only Conservative who will defy party whips and vote for a referendum.
Defying Cameron
Tory backbencher Mark Pritchard told the BBC: "This is about country first, party second and career last."
David Cameron is expected to face a significant rebellion by Tory back-benchers who are going to back a motion brought by Conservative euro-sceptic David Nuttall.
His motion calls for a referendum by May 2013 and says the public should have three options put to them in the nationwide vote - keeping the status quo, leaving the EU or reforming the terms of the UK's membership of the European Union.
It is being claimed that 59 Tory MPs have already declared their intention to defy Mr Cameron and there were reports that, in total, five ministerial aides were threatening to resign.
DUP deputy leader Nigel Dodds is a co-signatory to the motion and says his party will back the call for a referendum.
He told BBC News: "Everyone should be in favour of letting everyone have their say."
He claimed that: "All the main parties have let down the people of the UK."
The Conservatives, Liberal Democrats and Labour will all ask their MPs to oppose the move and Mr Cameron has argued that whilst he shares MPs' frustrations he would oppose calls for a vote.
The vote was called by the Backbench Business Committee after receiving a petition with more than 100,000 signatures. Although the result will not be binding if MPs back the idea, the Prime Minister will come under pressure to hold a referendum.
SDLP MP for South Down Margaret Ritchie said she and her party colleagues will vote against the motion.
"The SDLP are strong pro-europeans and we don't believe there is any call for this motion," she said.
She thinks the vote is "an attempt to undermine political institutions in Europe".
Others too believe that internal party politics are at play here. East Belfast MP Naomi Long suspects some politicians who are behind the referendum motion are being mischievous.
"People are playing games here. I don't believe this motion is constructive," she said.
"Europe has been beneficial to Northern Ireland and we need to be in there to shape it."
Shaping Europe
Ms Long's concerns are shared by Shadow Secretary of State Vernon Coaker. The Labour MP who has recently been appointed as Shaun Woodward's successor thinks the referendum motion is a "distraction".
He told BBC News: "This debate about Europe does not help". He added that it illustrates there is "a huge fissure opening up in the Tory party".
However, Labour are not without their own rebels. Labour MP Graham Stringer has criticised his party leader Ed Miliband and said back-benchers should be free to vote in any way.
Mr Stringer, who said he will vote for the motion, accused all three party leaders of making a "mistake" at a time when the public were "clearly aching for a say on Europe".
This motion has been brought forward by three days to allow Mr Cameron and Foreign Secretary William Hague to attend. They were both due to miss the original date on 27 October because of a trip to Australia.
Monday's debate will last for most of the day but it is clear that the ramifications from it will last an awful lot longer.