Hundreds queue for Red Hot Chili concert tickets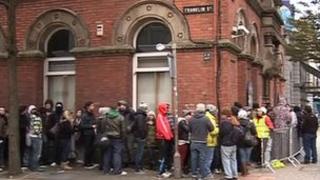 Hundred of people spent Friday night queuing in Belfast in the hope of getting tickets to see one of the world's biggest rock bands.
With just 1,000 tickets available for the Red Hot Chili Peppers concert, fans began lining up at 08:00 BST on Friday outside the Ulster Hall.
The one-off gig on 6 November is part of the MTV Europe Music Awards celebrations.
Bangor teenager Lee Alexander Shaw was the first in the queue.
"My mum and I came at 08:00 BST yesterday morning and there was no-one else here. We started wondering whether we should stay or come back later. We decided to stay and three hours later, the second person came."
Lee said he was very excited to be at the top of a queue that stretched right around the corner into a side street.
"I couldn't wait to get my ticket and tease all my friends that I got the first ticket for the MTV Red Hot Chili Peppers concert."
The queue grew during the night, he said, and by early morning, hundreds of people had joined in.
He plans to secure a prime position for the concert too.
"I will be at the very front, standing dead middle. I've been listening to the band all my life. Ask any of my friends they'll tell you I never shut up about them."