NI 'nightmare of bungalow in every field' says Lord Tom King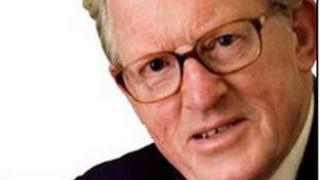 A former Northern Ireland secretary has told the House of Lords that if you want a picture of a planning nightmare then look no further than NI.
On Radio 4's The Week in Westminster, Jeff Rooker said Tom King had made the comment in a debate about the UK coalition's proposals to speed up planning laws.
"Tom King said in the debate that if you want a picture of a future that is a nightmare, take an aerial shot of Northern Ireland.
"A bungalow in every field. They don't believe in planning in Northern Ireland."
The Westminster government is currently considering ways of speeding up planning in England but the National Trust has warned that pressure for economic growth would lead to urban sprawls.
Lord Rooker said he had refrained from speaking out like Tom King because he had once had a year as an NI minister.
In the radio debate on Saturday, he challenged the National Trust's opposition to planning reform in England.
"It is the general hype that we are destroying the countryside. We are not," he said.
"The totality of growth and development that would be required for housing infrastructure and other things from the time I was in the department is would be about 1%, or 1.5% of the totality at most.
"That would take developed land in England to about 10.5%."
However, Ben Cowell, external affairs director of the National Trust said: This is a policy that does have implications for the countryside. We had had 200,000 people signing our petition... This is a policy weighted on economic growth.
"The figures are disputed on this. Two thirds of the countryside in England is unprotected in any way - that is the land most vulnerable to creeping urban sprawl of the type we see in other European countries that have gone down this route - of the type we see in Ireland and Greece.
"We have not set out trying to paint a nightmarish picture here, clearly we need more houses in this country but we need development done in the right way. There needs to be more clarity about the definition of what is sustainable development."