Epileptic man Derek Wortley slashed on face in Annalong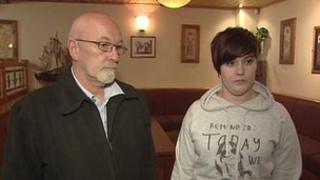 An epileptic man who walks with a stick has been slashed across the face in an attack in County Down.
Derek Wortley, 53, was on his way to a family party in Annalong.
He was slashed and beaten by two or three men as he crossed waste ground near Ulster Avenue on Saturday night.
His family have said that he was unable to defend himself and appealed for anyone who may have seen his attackers running towards the nearby main road to come forward.
"I just can't believe that something like that would happen here," said the victim's daughter, Rebecca Wortley.
"No-one is going to feel safe here anymore because in our own back garden, this has happened. He was only out through the back door," she added.
"It's something that never happens round here," said Derek Wortley's brother, Ian.
"I had been at the party that Derek was going to. I just can't get over it."