Basil McCrea bid to block higher tuition fees for UK students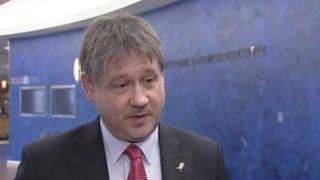 A UUP MLA has said he will make an Assembly bid to stop universities charging higher fees to students from England, Scotland and Wales.
Fees for students from Northern Ireland are to be frozen at £3,500 but students from elsewhere in the UK will be charged up to £9,000 from next year.
Basil McCrea has described the plan as discriminatory.
Last month, it emerged an English student was considering suing the executive over the issue.
The executive has said it believes its legal position is robust.
The new system would mean students from elsewhere in the UK paying up to £9,000 while EU students pay the same as students from Northern Ireland.
"This is not fair, it is not equitable, it is a really strange system," said Mr McCrea, who is chair of the employment and learning committee at Stormont.
"People that actually come from the country but have to pay the fees are paying more than people that come from another country but are not having to pay the fees.
"It's basically unfair and there will be a significant political backlash at Westminster if we carry on doing these things and I want to try to get the committee to stop it."