Radical prison reform report due to be published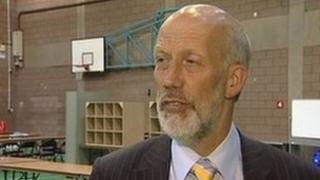 A report recommending the most radical reforms in the history of the prison service in Northern Ireland will be published later.
Hundreds of prison officers stand to lose their jobs as a result of the review.
It has been ordered by Justice Minister David Ford.
An interim report by the same review team in February, labelled the prison service as dysfunctional, demoralised and ineffective.
Dame Anne Owers, who is behind the report, is expected to urge politicians to back the reforms.
As a former Inspector of Her Majesty's Prisons, she previously co-authored a highly critical report about Maghaberry.
That report labelled the prison as one of the most expensive, but worst-performing in the UK.
The interim report also said fundamental change is needed, including a redundancy scheme for prison officers.
That recommendation will be repeated when the team's final report is published by the justice minister on Monday.
Up to 500 prison officers are expected to lose their jobs.
A member of the assembly's justice committee, Raymond McCartney, says some of the prison regime needs root and branch reform.
"Prison staff are paid to do 37-and-a-half hours a week yet when one examines it in terms of management they only work 28 hours," said the Sinn Fein MLA.
"There you have one massive inefficiency.
"Prisoners in our regimes are left too long in prison cells, they don't get access to vocational training, to education, to many aspects which would allow them to be part of the rehabilitative process."