Smithwick Tribunal: Buchanan family appeal for witnesses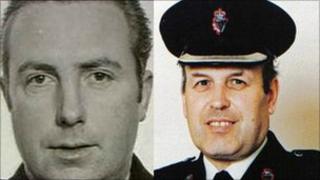 The family of one of the men whose death is being investigated by the Smithwick Tribunal have appealed for witnesses to co-operate with the inquiry.
The tribunal is looking into possible Garda collusion in the murder of RUC officers Bob Buchanan and Harry Breen in south Armagh in March 1989.
The Buchanan family have asked anyone with potentially valuable information to come forward.
The men were killed in an IRA ambush.
Judge Peter Smithwick chairs the inquiry in Dublin and the Buchanan family have released a statement calling for more assistance from retired and current police officers.
The statement read: "Without the attendance of all witnesses who can provide assistance to ensure the tribunal can establish the truth, this process will find it impossible to reach a firm conclusion.
"It is known that a number of former police RUC/PSNI officers and serving PSNI officers hold valuable information that would be of assistance to this tribunal.
"Some have already spoken to the tribunal but have been unable to attend to date.
"We trust these people will endeavour to communicate with the tribunal staff to ensure a suitable date can be arranged before the end of the evidence hearing process.
"There are also others, who may not realise the importance of the information they possess."
The Buchanan family have urged potential witnesses to contact their legal team and promised absolute anonymity for those who require it.
They also said that even after approaching their legal team, no one can be compelled to give evidence to the tribunal.