Osama Bin Laden costume in Strabane shop sparks outcry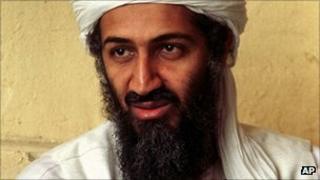 There have been calls for the removal of an Osama Bin Laden costume from the window of a County Tyrone shop amid fears it could damage community relations.
The Al-Qaeda leader was killed by US forces in Pakistan in May.
But a likeness of the man believed to have ordered the attacks on New York and Washington on 11 September 2001 can be snapped up in Strabane for Halloween.
Ulster Unionist councillor Derek Hussey said the sale of the costume, which is called "terrorist" and comes with a turban and fake beard, is in bad taste.
"We are well aware of the world consequences of terrorism and to portray this as a Halloween celebration is just totally wrong," he said.
"This is totally in bad taste and I would appeal to the particular premises take this off your shelves.
"Forget about it, let children be children and go out and enjoy Halloween.
"I fail to see the relationship between Osama Bin Laden and Halloween."
Bobby Rao of the town's ethnic community association also criticised the sale of the costume and said it was "not right in this day and age".
"In Northern Ireland we don't want to be looking back," he added.
"It is a delicate issue and it needs to be nipped in the bud."