Jennifer Cardy trial: Black 'not in NI' to murder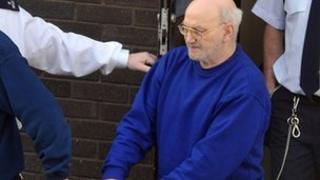 The lawyer defending Scottish serial killer Robert Black claims the prosecution have failed to prove he was even in Northern Ireland on the day Jennifer Cardy was abducted and killed.
David Spens QC said they were trying to fit "a square peg in a round hole" in linking Black to Jennifer's murder.
He insisted there was no evidence Jennifer had been sexually assaulted.
The nine-year-old was killed in August 1981. Her body was discovered near Hillsborough, County Down.
Mr Spens told the court: "Opportunity is the key in this case".
"On this, the prosecution case is weak, flimsy and ultimately unsatisfactory. It has cracks that cannot be papered over."
Difficult and emotional
He also claimed there were "striking differences" between Black's known killings and that of Jennifer.
He said Jennifer had not been dressed as Robert Black liked his victims to be dressed and that, when her body was recovered, her shoes were still in place.
"Missing shoes were a tell-tale sign that he had been at the scene of a crime. The shoes were always removed," he said.
Mr Spens told the jurors this was a difficult and emotional case, but said they had to make their decision "coolly, calmly and dispassionately" even if they had "the utmost sympathy for the Cardy family and none at all for Robert Black".
"Maybe some, or all, of you would like to convict him because of what you know about him. But you don't decide verdicts on emotion; sympathy can play no part," he added.
He insisted there was no evidence Jennifer had been sexually assaulted and reminded the jury how the former Northern Ireland state pathologist, Professor Thomas Marshsall had told them that at a meeting with the police in 2008, he had felt he was being put under pressure to change his opinion on his original findings.
Mr Spens said: "Something about the prosecution case just does not feel right."