250,000 use Derry's Peace Bridge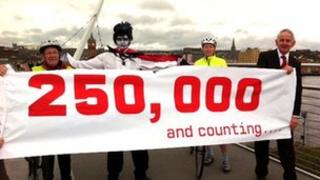 More than 250,000 people have used Londonderry's Peace Bridge since it opened on 25 June, according to Ilex, the company that built it.
The bridge cost £14m to build and is the length of two and a half football pitches. It links Derry's Waterside to its Cityside.
Derry Mayor Maurice Devenney said the figures for its use were "great news".
They were proof the bridge had "won the hearts and minds" of the city's people, he added.
"This year we are celebrating the 25th anniversary of the Halloween Carnival and, for the first time ever, people will be able to view the fireworks display from the Peace Bridge," the mayor said.
The fireworks display will be held on Monday 31 October at 20:00 bst and restricted numbers will be allowed on the Peace Bridge.