NI MPs back defeated EU referendum motion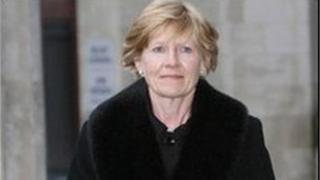 Nine MPs from Northern Ireland have backed a Commons motion which called for a referendum on the UK's membership of the European Union.
Despite a significant number of Conservative rebels, the move failed.
The motion was opposed by the Conservatives, Lib Dems and Labour. Many Tories were among the 111 MPs who voted for the motion with 483 against.
Before a five-hour debate, Mr Cameron told MPs it was the wrong time for a referendum and urged them not to rebel.
Two ministerial aides, who joined the rebellion, look set to lose their jobs.
The DUP's eight MPs all voted in a favour of a referendum as did the North Down MP, Lady Hermon.
Deputy DUP leader Nigel Dodds said David Cameron had "set his face against the will of a clear majority of the British public by refusing to accept the need for a referendum".
Lady Hermon, who described herself as a "committed European," told the BBC that "people ought to be given a referendum on something as fundamental as our membership of the EU".
The SDLP's three MPs all voted against the motion. Party leader Margaret Ritchie said: "We believe that the motion was ill-timed and now is not the time to destabilise the European institution."
The East Belfast MP Naomi Long, who voted against the motion, said: "I believe that the holding of an in/out referendum on EU membership at this time would be a very retrograde step."
Conservative MP Stewart Jackson told the Commons he would vote for the motion "with a heavy heart" and "take the consequences", which may mean losing his position as parliamentary private secretary to Northern Ireland Secretary Owen Paterson