Karen Walsh due to be sentenced for murder of pensioner Maire Rankin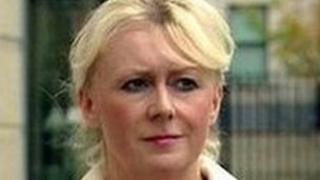 The woman convicted of murdering Newry pensioner Maire Rankin will be sentenced on Friday.
Pharmacist Karen Walsh, 45, was found guilty of beating her neighbour to death at her home in 2008.
Mr Justice Hart told Belfast Crown Court on Tuesday he had detailed pre-sentencing reports and victim impact statements from Mrs Rankin's children to consider.
The 81-year-old was found dead on Christmas Day.
Mr Justice Hart said: "This appears to have been a spontaneous attack on Maire Rankin for some unfathomable reason."
The prosecution said there were a number of aggravating factors and the life sentence tariff should be set at the higher starting point.