Judge tells Robert Black jury not to focus on past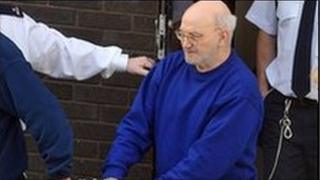 The judge in the Jennifer Cardy murder trial has told the jury they must make their decision solely on the evidence before them.
Robert Black, 64, is accused of abducting and killing the nine-year-old on 12 August 1981.
He is currently serving life in prison for the murders of three children.
Mr Justice Wetherup told the jury the onus remained with the prosecution to prove this particular case, and not to focus on past convictions.
He said the jury could not fail to have sympathy for the family and the victim, but nevertheless they had to make their decision calmly and on the basis of evidence before them.
Jennifer vanished from the roadside near her home in Ballinderry more than 30 years ago.
She had left her house to cycle a short distance away to meet a friend.
Her red bicycle, which had been a birthday present two weeks earlier, was later found thrown over a hedge close to her home.
Her body was found at McKee's Dam near Hillsborough six days after she disappeared following a huge search operation.
Black has always denied her murder.