Plan of Titanic from British inquiry up for auction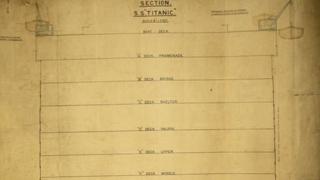 A plan of the Titanic used in the inquiry into the sinking of the ship in 1912 is set to be auctioned this Saturday.
It is the sister plan of one commissioned by the British Board of Trade to assist in the 36-day inquiry which sold for £220,000 at auction in May.
That plan, like this one, was put up for sale at Henry Aldridge & Son in Devizes in Wiltshire.
Andrew Aldridge explained the importance of the drawing, which covers the mid-section of the ship and is estimated at £40,000 to £60,000.
He said it was prepared by the naval architects department of White Star Line with the help of Harland and Wolff.
"This is an extremely significant object from the British inquiry," he said.
"As well as being visually impressive at over 6ft tall, it uses the term accident rather than disaster to describe the sinking in an apparent effort to minimise the perception of liability to both the inquiry, general public and legal community at large.
"In 1916 there were a whole raft of legal cases against White Star in the US.
"There were some taken in the UK but not as many.
"This plan would have been a visual aid at the inquiry and would have been on display there."
A deck plan for passengers in the first class cabins of the Titanic is also available at the auction.
'Floating palace'
They were handed to passengers as they boarded the luxury liner at Southampton to help them navigate around the ship.
New York couple Ida and Isidor Straus never reached their destination, and drowned at sea along with 1,495 others.
But their maid, Ellen Bird, survived, and kept the couple's deck plan which has an estimate of £30,000 to £50,000.
"The Titanic was a floating palace, at over 882 feet in length it was a floating town, so you could get lost," Mr Aldridge added.
"Ellen Bird has circled her cabin on the plan.
"She has also circled the place where she had her dinner, it was the only way you could find it."
The auction has more than 370 lots including a log page of wireless calls from the Titanic which documents how the ship's first distress call broke into a message from Newfoundland which was providing a news summary for the day.
It is estimated at £20,000 to £25,000.