Patsy McGlone to launch SDLP leadership manifesto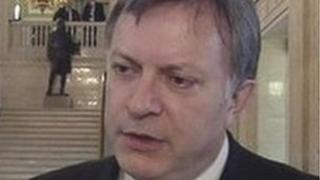 The SDLP MLA for Mid-Ulster Patsy McGlone will launch his leadership manifesto on Wednesday.
Patsy McGlone is pledging to rebuild the party and also promising to appoint a full-time member of staff based between Belfast and Dublin to liaise with other parties in the city.
He is one of four candidates vying for the job.
The leadership vote will take place at the party's conference on 5 November .
Mr McGlone's platform is entitled 'reform, rebuild and restore' and among his promised reforms is a plan to ensure every constituency council in the SDLP meets within six months to start developing a local party and constituency strategy.
He also intends to convene a party senior management team to meet weekly.
Patsy McGlone was the first candidate to declare for the leadership.
The others are south Belfast MP, Alasdair McDonnell, Conall McDevitt MLA, and Environment Minister Alex Attwood.