Supergrass trial: second main witness takes stand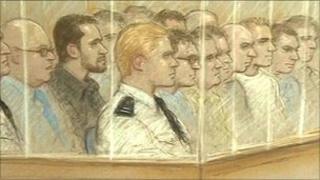 The second of the two main witnesses in the UVF supergrass trial has taken the stand.
Ian Stewart is four years older than his brother Robert, who has already given evidence for 26 days.
The brothers are testifying against 14 men, including alleged former north Belfast UVF leader Mark Haddock.
Nine of those in the dock are accused of the murder of Tommy English 11 years ago.
Answering questions from a prosecution barrister Mr Stewart described how he joined the UVF in 1995 and was present when they plotted the killing.
BBC reporter Barbara Collins, who was in court, described Ian Stewart's manner as "calmer and briefer" than that of his brother.
"He answered questions when asked without volunteering information," she added.
The trial ended for the day because of the smell of fumes in the court room.
It is thought that the origin of the fumes was a vehicle, either a prison or police van, parked on the ground floor.
The judge, Mr Justice Gillen, was angered by the incident and demanded an explanation from court staff officials.
The trial is the biggest and most expensive to be held in Northern Ireland for many years.
The 14 defendants are being represented by 24 barristers and eight firms of solicitors.
Both the UVF (Ulster Volunteer Force) and UDA (Ulster Defence Association) are loyalist paramilitary groups responsible for the murder of hundreds of people during the Troubles.
The term supergrass was first used in Northern Ireland in the 1980s when a number of terrorist suspects were convicted on the evidence of former paramilitaries.