Jennifer Cardy trial: jury sent home for the day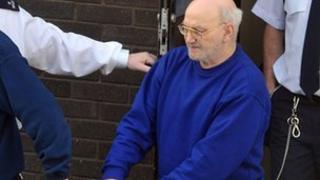 The jury in the Jennifer Cardy murder trial has been sent home for the day after beginning to consider its verdict.
Robert Black, 64, is accused of abducting and killing the nine-year-old on 12 August 1981.
Her body was found at McKee's Dam near Hillsborough six days later, following a huge search operation.
Black is currently serving life in prison for the murders of three children, but denies Jennifer's murder.
The judge, Mr Justice Ronald Weatherup, told the jurors at Armagh Crown Court he did not want them to feel under any pressure of time to make a decision.
He said there might come a point when he would accept a majority verdict if 10 out of the 12 jurors were in agreement.
However, he told the three men and nine women of the jury that point had not been reached.
"I do not want you to feel under any pressure to reach a conclusion to this trial," he said.