Driver injured after double decker bus crashes near Toome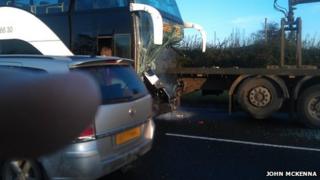 Around 30 passengers have escaped injury after the double decker bus they were travelling on was involved in a crash outside Toome, County Antrim.
The express service was travelling from Londonderry to Belfast when the collision happened around 09:00 BST.
The driver of the bus had to be cut free by the fire service. His injuries are not believed to be serious.
Translink said most of the passengers got onto a substitute bus to continue their journey shortly after.
Two other vehicles were involved in the crash.
Three people were treated for injuries that are not believed to be life-threatening.
Colm Bryce from Derry was sitting at the front of the bus when the accident happened.
"There are a couple of us with slight injuries," he said.
"I have neck pain and they just recommended that I go to hospital to get it checked out."
The Hillhead Road between the Broagh Road and Castledawson was closed for a time but has now re-opened.