Brian Crowe review : no evidence activities influenced policy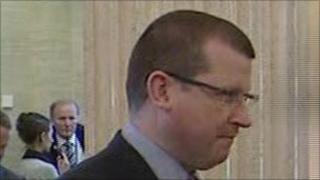 A review into a Stormont special adviser who was sacked following allegations about his private life has found no evidence his activities influenced government policy.
Brian Crowe was dismissed in March by Regional Development Minister Danny Kennedy.
He had admitted forming an online relationship with a woman he told he could deliver political favours for - in exchange for sex.
He later claimed this was fantasy.
In April Mr Kennedy announced a review into Dr Crowe's involvement and influence as a special adviser.
On Wednesday the findings of that review were published and found no evidence that his activities influenced government policy.
However it found he had used his departmental computer for personal and sexually explicit correspondence.
At the time, Dr Crowe said he would like to "apologise wholeheartedly to his wife and thank her for her support at this time".
Betrayed trust
He also said he had betrayed the trust of Mr Kennedy.
Dr Crowe, also apologised to the Ulster Unionist Party and the Church of Ireland Bishop of Connor.
He had been an unpaid Church of Ireland minister but was stood down when the issue emerged.
He admitted forming an online relationship and exchanging inappropriate photographs and engaging in a series of online conversations which he says he viewed as "fantasy chat."
Dr Crowe said he had told this person that he delivered political favours for sex but that was untrue.
He said he was indulging in what he described as "a disordered online fantasy".
In the statement Dr Crowe said he accepted that his behaviour was "entirely wrong".