Malaysian woman working illegally at Lucky Dragon in Garvagh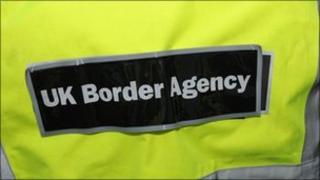 A Malaysian woman who was working illegally at a takeaway in County Londonderry has been arrested.
The 51-year-old was held following an intelligence-led operation by the UK Border Agency at the Lucky Dragon in Garvagh on Tuesday.
After checking the immigration status of staff, the woman was found to have overstayed her visa and to have been working illegally.
The woman has been detained while steps are taken to remove her from the UK.
The takeway now faces a potential fine of up to £10,000 if the employer is unable to prove that the correct checks - such as asking for a passport or work permit - were carried out before giving the woman a job.
Mike Golden, who heads the UK Border Agency's local immigration team for Northern Ireland, said the operation carried a clear message for employers.
"We will not tolerate illegal working. It is a crime that not only undercuts local business but also has a serious impact on communities, taking jobs from those who are genuinely allowed to work," he added.