Man released as investigation into 1974 RUC murder continues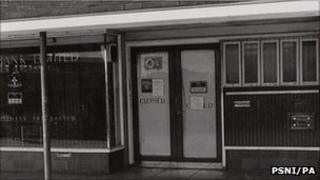 A 57-year-old man arrested as part of a renewed investigation into the murder of a police officer in Newtownabbey in 1974 has been released.
Insp Bill Elliott was shot dead while investigating a bank robbery in Rathcoole.
The PSNI's Serious Crime Branch reopened the case after a review by the Historical Enquiries Team (HET) found potential new leads.
The man was arrested in north Belfast on Wednesday.
Police inquiries into the murder are continuing.
Insp Elliott, 48, was driving on his own when he heard news that a robbery was under way at the Ulster Bank in the Rathcoole estate.
The RUC officer raced to the scene and died after a shoot-out with members of the Official IRA.
Detectives said they were armed with two submachine guns and a pistol.
Insp Elliott was posthumously awarded the Queen's Police Medal.