Firms 'may be selling short' heating oil customers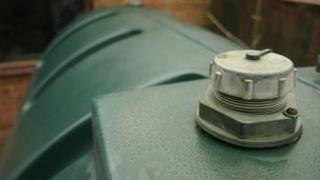 Suspicions that some consumers might be short-changed on home heating oil deliveries have been raised by an Office of Fair Trading official.
Giving evidence to the assembly's committee for enterprise, trade and investment, James MacBeth of the OFT said the strongest evidence for this came from a wholesaler monitoring the market.
"Their view was that on a number of occasions they had seen retail prices below the level at which they were wholesaling," said Mr MacBeth.
The OFT official said there was only two possible explanations for that.
One, he said, was that distributors are running at a loss just to stay in business and to keep some throughput.
"The other is that there are some suppliers who are engaging in selling short measures," said Mr MacBeth.
The possibility of rogue trading shocked the committee and its chairman Alban Maginness MLA said it was a cause for concern.
"Should evidence be found to substantiate these concerns we will be looking for suppliers to be dealt with appropriately and for measures to be put in place to ensure it does not happen again.
"Consumers must be protected from this sort of rogue trading," said Mr Maginness.
In response David Blevings, director of the NI Oil Federation, said: "The OFT did not indicate that this was a problem in Northern Ireland.
"All distributors are required by law to have their delivery meters sealed by Trading Standards and this gives consumers confidence in the accuracy of their fuel purchases.
"The NIOF is happy to meet Mr Magennis or any member of the committee to give reassurances that this practice is not an issue for NI householders."
The Trading Standards Service (TSS) also said it was surprised to hear it suggested that consumers in Northern Ireland may be getting short measures.
"Since April 2010, TSS has investigated 54 complaints alleging short measure deliveries of home-heating oil. After carrying out investigations into these complaints, TSS found no evidence of consumers being delivered short measure oil," it said in a statement.
"TSS also routinely inspects, tests and verifies home heating oil tankers on a weekly basis to ensure that oil tanker meter measuring systems are accurate."